From Bundesliga | Leroy Sane is only 19 years old, but he has carried his team through a difficult patch of form in the last few weeks. Ahead of the Revierderby against Borussia Dortmund, Sane is fast becoming the poster boy for a Schalke team which is on the up.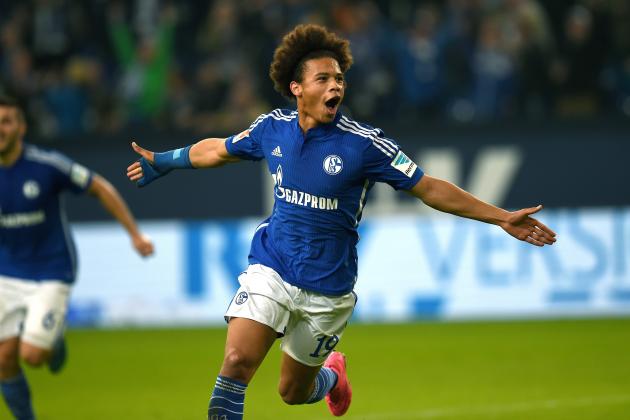 Sane is Schalke's top scorer this season, having notched up four goals from the opening 11 games. His last came in Schalke's 1-1 draw with FC Ingolstadt last weekend, a rare headed goal to draw Schalke level on what was a mediocre afternoon for the club.
Derby tonic
It was one of several mediocre afternoons of late, as Schalke have suffered a drop off in form after a bright start to the season under new coach Andre Breitenreiter. With only one win in their last six games, the Royal Blues are looking for a change of fortune as the derby in Dortmund approaches. Sane, as so often this season, may be crucial in that respect. The 19 year old attacking midfielder broke into the first team last season, with sporadic Bundesliga appearances and a goal at Real Madrid's Bernabeu stadium which saw him make international headlines.
This season, he has risen to become a leading light in Andre Breitenreiter's new look, youthful Schalke line-up. Despite the recent drop in form, Sane is confident that the derby will be a game on even footing. "Form doesn't matter in the derby," said the Schalke youngster this week, "every player is up for it. We just need to be on our game from the start and take our chances." Matchday 12 will see the first time that Sane has played in a Revierderby. Born in neighbouring Wattenscheid, the teenager knows exactly how important this local derby is for everyone in the region. As a product of Schalke's youth system, he knows exactly how much it means to the proud fans of Gelsenkirchen.
Weight of expectation
This will be Sane's first real taste of the hopes and dreams those loyal fans are willing to put on his shoulders. Schalke have produced some of Germany's finest footballers over the last few years, the likes of Manuel Neuer, Mesut Özil and Julian Draxler among them. Many, like those three, have moved on to different clubs, and the Royal Blue faithful will be delighted to have a new local hero. Should he make an immediate impact in his first ever derby fixture, Sane will surely cement his status as just that.
His optimism, meanwhile, is perhaps not as misguided as it might appear. Schalke may be going through a dry patch, but Andre Breitenreiter's first season in charge has been a successfl one thus far. The club sit in fourth place in the league, and have been scoring for fun in the Europa League, notching up nine goals in their opening three games.
Proud tradition
Breitenreiter's philosophy of promoting youth will go down well with the Schalke fans, but it will also take some time to settle. Some disappointing results aside, the homegrown core of the side which includes players like Sane, Max Meyer and Joel Matip is looking like one with a solid, long term future. After some of the turbulence of recent years, stability is worth a great deal in Gelsenkirchen.
Come match day, though, any thoughts of long term goals will be banished from Royal Blue minds. Instead, the romance of the Revierdeby will become all consuming. The romance of two iconic clubs from Germany's industrial Ruhr region, both full to the brim of local heroes and international superstars. As Sane says, anything can happen in the derby.